ODE TO BARCELONA - FAMILY TRAVEL (PART III), 'TOURNKEYS': BARRIO GOTICO
by Paula M. Toledo
The Barrio Goticó, the Gothic Quarter of Barcelona was where I first stepped foot many years ago while studying on a university exchange in Barcelona. It was my first time travelling to anywhere in Europe and I was struck at how the beautiful old Medieval buildings and churches could withstand time.
I knew I wanted to take my boys to see these incredible wonders, to learn the history of Barcelona, but admittedly, I wasn't too enthused by the crowds of tourists. I also knew that the labyrinthine streets in the Old Quarter, a heat wave, and a son with asthma was not a good combination.
So I took my tour guide hat off for the day and happily offered it to an expert.  After a bit of research, I found a tour especially designed for families with children 4 to 12 years old.
Runner Bean Tours took history and made it fun. With my boys, experiential activities always keeps them entertained and our guide Jessi enthusiastically engaged all our senses to make sure we were stimulated. Tastings at a candy shop, drawing, the art of observation, giggling while sampling Giant's heads at the Giants Museum was all part of our interactive two and a half hour tour. Our guide was very mindful of the heat and made frequent stops for water and always made sure to find nice shady spots before she began giving us the low-down on a historical monument.  
The bonus was that I also learned a lot about Barcelona. I was pleased at the depth of the information, how our guide was able to cover so much interesting background and relay it with such clarity for all ages. The reprieve from my free-runner's go-go-go (Jetlag apparently doesn't exist with my two) was needed and welcome. Single mom breaks when travelling alone with kids are hard to come by and I was especially grateful for handing over the Q & A to another reliable adult. My children are curious by nature, born and bred that way. But from dusk 'til dawn, the questions come at me faster than any of their little Nerf bullets could every possibly fire. One after the other. After the other. And other.   
For parents feeling the same happy exhaustion, it's well worth considering a family tour but reservations are needed and it's wise to make them at least one week in advance.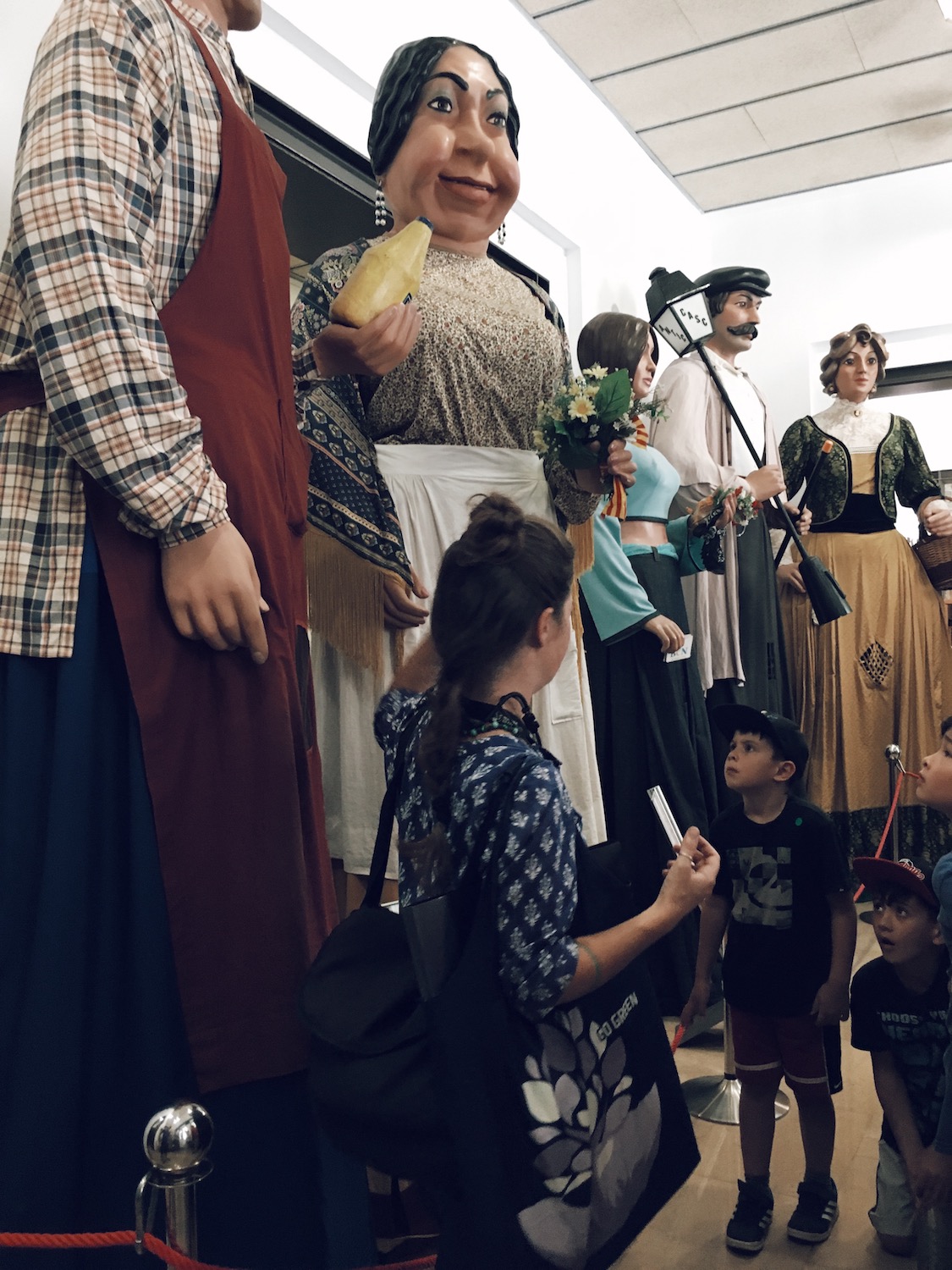 TOURnKEYS - Sample Itineraries III - Family Travel Barcelona Barrio Gotico
In the AM
Cost: *15 Euro Adults/Kids, Children 3 or under are free (*) An additional voluntary donation of €1 per person is recommended for the Giants Museum, a small local project
Location: Meeting place: Via Laietana, outside metro Jaume I (in front of Hotel Suizo. Plaça de L'Angel, 12
Barcelona, España.). Metro: Jaume 1 (Yellow Line, L4) 
Time: July 1st to August 31st: Wednesdays and Saturdays at 1000h. Off-season:April 1st to June 30th: Saturdays at 1000h, September 1st to October 31st: Saturdays at 1000h  
Looking for some authentic tapas, we walked for 5 minutes towards El Born, a very trendy area of Barcelona known for its high end fashion boutiques and nightlife. We fell upon Restaurante Tapas La Bona Sort, the space and it's beautiful architecture caught my eye. High ceilings and archways, hanging lights giving off a warm hue leading to a courtyard filled with greenery made me curious to give it a try. Known for its seafood dishes, we filled our post walking appetites Pescadito Fresco and Calamares a La Plancha. 
Restaurante Tapas La Bona Sort
Cost: $$
Location: Calle Carders, numº 12. Barcelona, 08003, Tel: (+34) 933 10 54 60
Time: 1200h to 2345h
Restaurante Tapas La Bona Sort